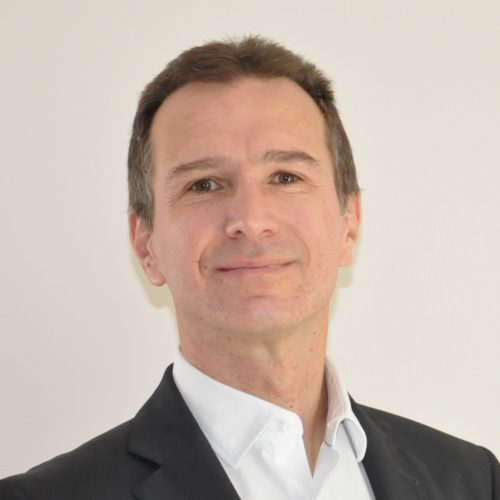 Jean-Christophe Cabot
Jean-Christophe is a Senior Consultant at XLCubed Ltd.
XLCubed is a Reporting solution that lets business users build and distribute insightful, interactive IBCS compliant reports for any audience, on any device, using data-connected Excel.
---
About
Jean-Christophe Cabot studied Business Administration in France and in the United States, specializing in Marketing and Management Information System.
He started his career as support specialist, trainer and then training manager for a Business Intelligence Software provider. He then worked as an external consultant, implementing ad hoc decision support systems and sophisticated reporting solutions. Jean-Christophe later joined different Analytics and Reporting software vendors holding various technical and functional roles in software design, software development, training, consulting, sales and presales.
Jean-Christophe has a significant experience in servicing enterprise customers across many industries, particularly in the financial area. He has built trustworthy long-term relationships with several large corporate accounts.
Today he is engaged in the French, European and North American markets helping prospects and customers understand, use, and implement Financial and Reporting solutions.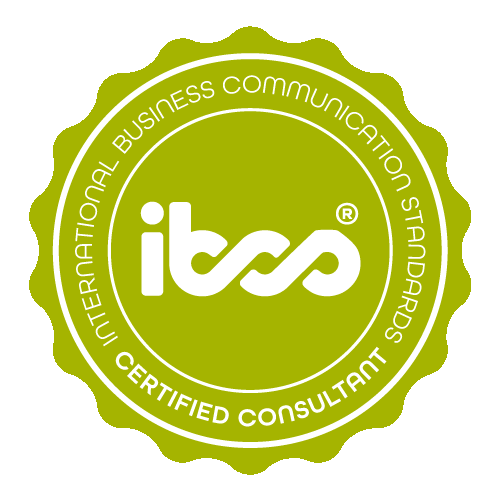 IBCS® Certified Consultant
Jean-Christophe Cabot has successfully completed the IBCS® certification for successful design of reports and presentations at the HICHERT+FAISST IBCS Institute in August 2022.
WORK SAMPLES
These samples have been developed with XLCubed. They are based on real business cases, but data has been anonymized.
These fully interactive, data connected reports run in Excel or in any browser.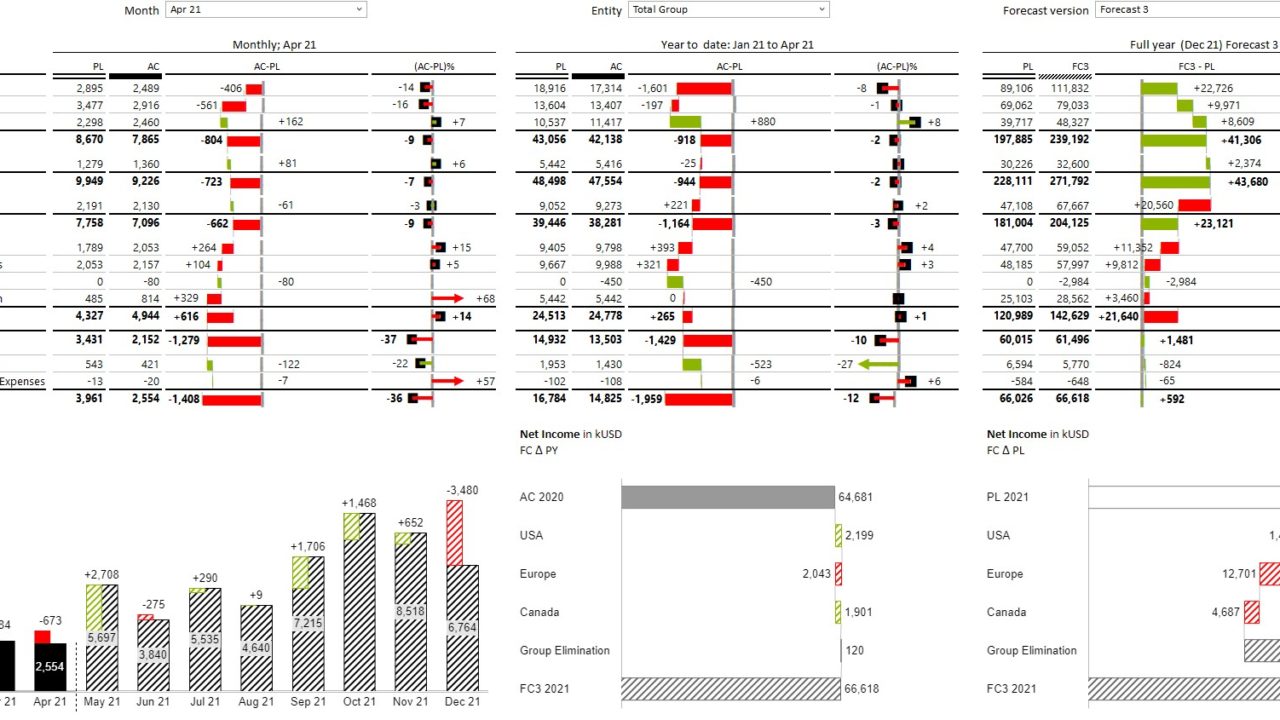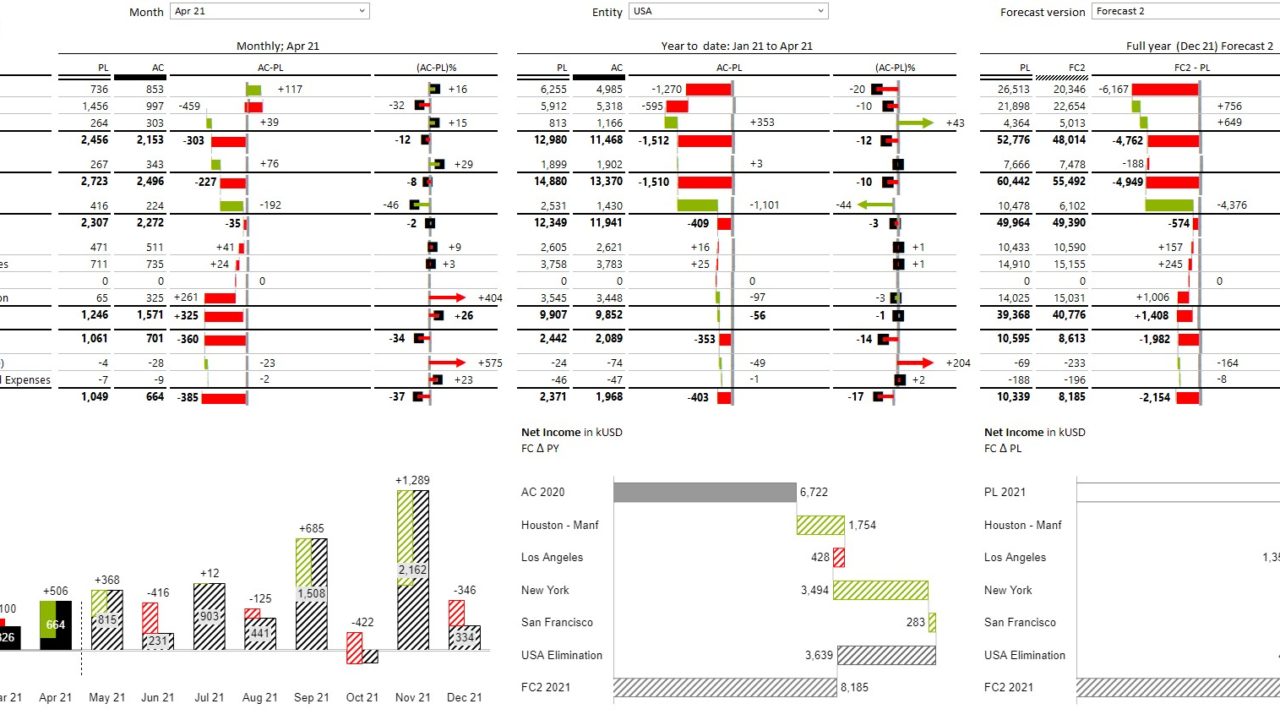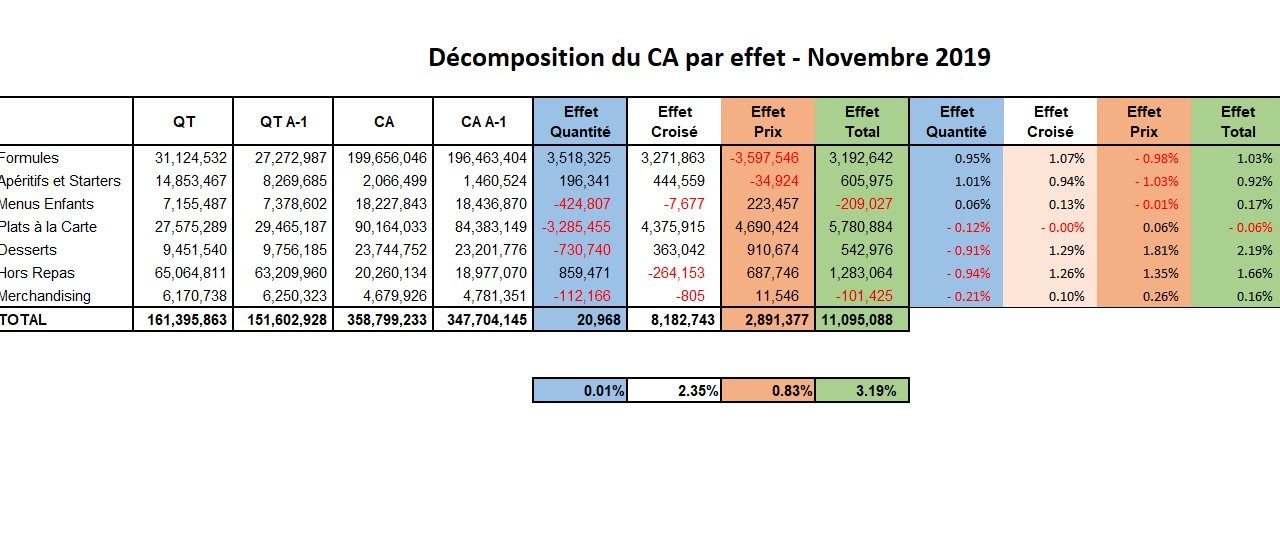 Work sample 1 - before The dashboard presents a simplified Income Statement showing Actual data for the current month as monthly and year to date values as well as the projected end year results based on the occurred Actual and the latest forecast for the rest of the year.

Work sample 1 - after In this revised version, waterfall charts explain the positive or negative contribution of each account based on their nature (revenue or cost). The dashboard is enriched with a focus on Net Income, both from a monthly perspective, by comparing the actual and forecast to the previous year, and from a geographical one, by highlighting the expected contribution of each geographical area as compared to the previous year and to plan.

Work sample 1 - after The dashboard was also made interactive, allowing to user to select different forecast scenarios and geographical areas.

Work sample 2 - before This dashboard is a volume vs value type of analysis that highlights whether the relative variance of Sales from one year to another is driven by the changes in quantities sold or by the changes in prices.

Work sample 2 - after