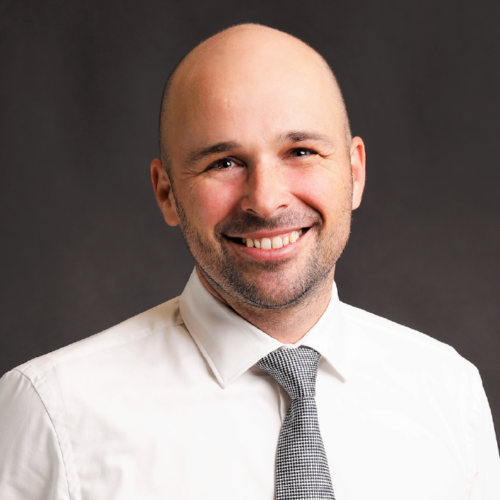 Thomas Terbuch
Thomas Terbuch is the General Manager of consultnetwork GmbH and consultant for corporate performance management.
---
About
Thomas Terbuch, MBA, has studied Controlling and Strategic Corporate Management at the Alpen Adria University. He has more than ten years experience in the implementation of management accounting systems in the trade, health care and production sectors.
Today, Thomas is the Managing Director of consultnetwork GmbH and consultant for integrated business management. As such, he has been involved for over ten years with integrated business management in company groups of 5 to 30 companies. The IBCS® Standards are an important part of his controlling framework (www.controlling-strategy.com), which he developed together with his partners over the last several years. Thomas Terbuch visualizes management cockpits according to the ONE PAGE principle for groups, companies, as well as for branches and profit centers according to the IBCS® Standards.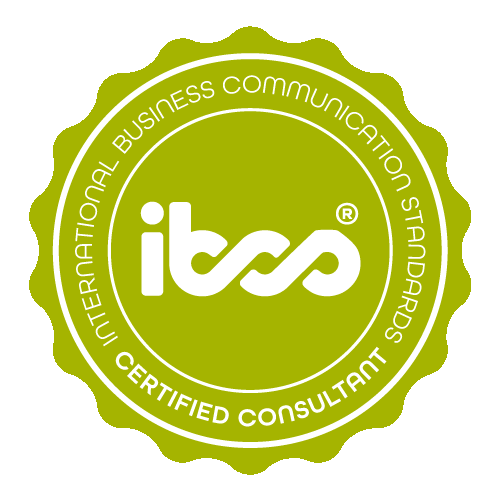 IBCS® Certified Consultant
Thomas Terbuch has successfully completed the IBCS® certification for successful design of reports and presentations at the HICHERT+FAISST IBCS Institute in April 2012.
Work samples
ONE PAGE Cubeware Cockpit based on LucaNet data
This cockpit shows how you can summarize your company key figures (KPI) on an one pager in an appropriate way. On one page information from balanced scorecard, operative management and financial management were concentrated. (This example is based on data from the consolidation and planning software LucaNet.)
More information about the concept and its implementation you will find in our three-part video series following this link here.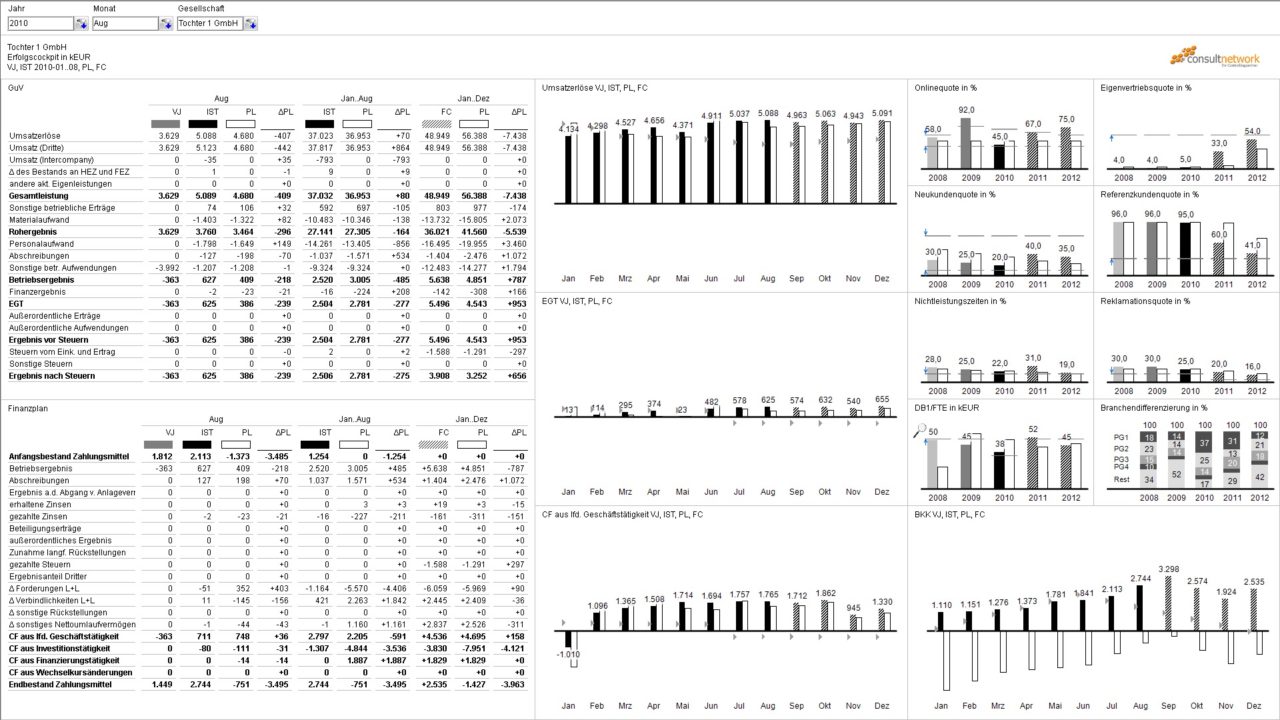 ONE PAGE Excel Cockpit based on data from Professional Planner
This example was created as part of a reporting project for a corporate group consisting of nine operating companies. On one page the overall economic situation of a subsidiary had to be summarized. This page includes income statement, cash flow statement and strategic information.
The reporting conception represented the final step of a multi stage implementation of a group-specific controlling-strategy. All stages – from conception through the generation of the actual data to integrated financial planning and reporting were implemented by Mr. Terbuch. All data of the cockpit are linked to the Professional Planner database, the visualisation was implemented with SparkShapes®.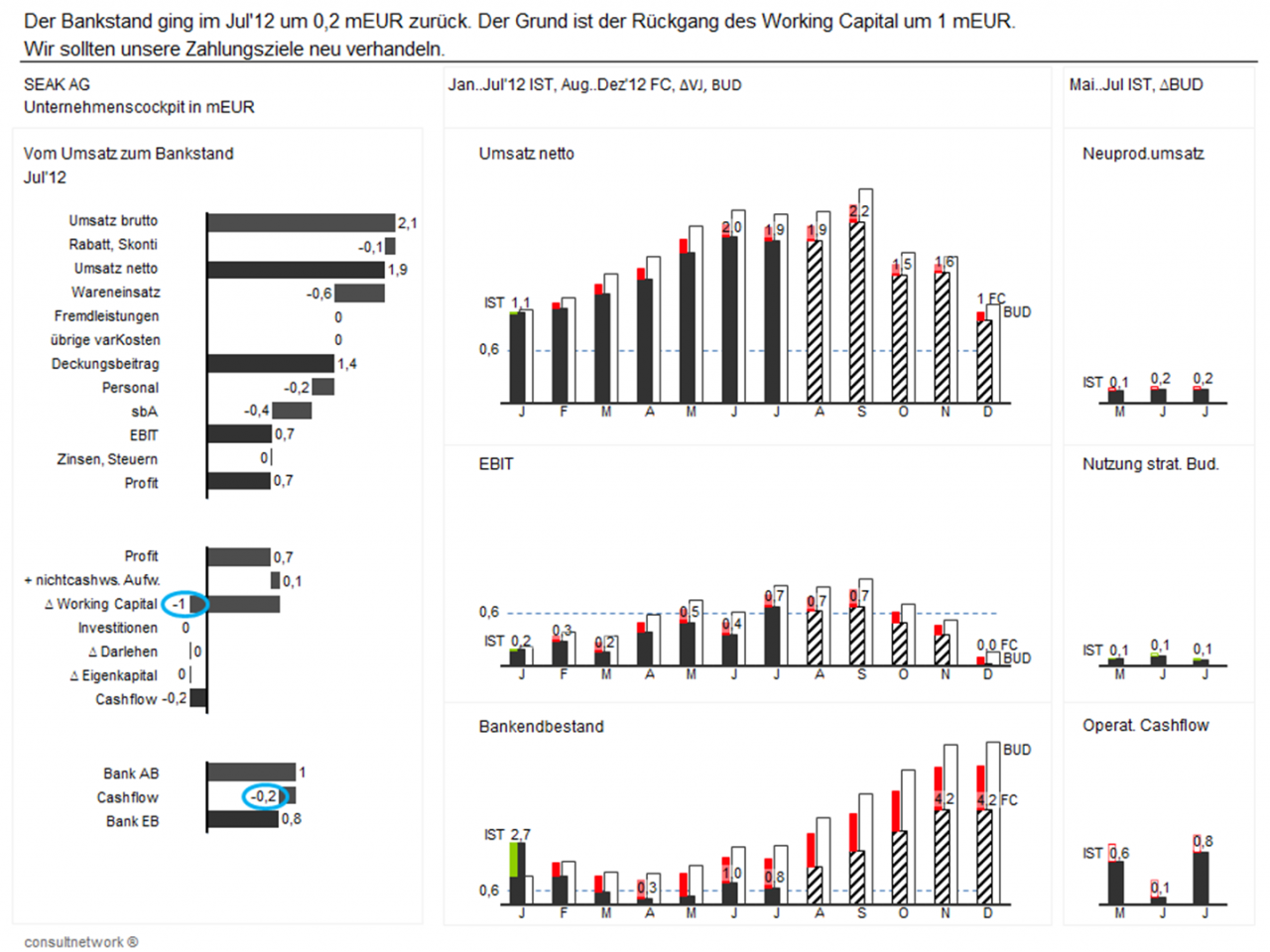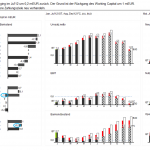 Profit and loss calculation with Microsoft BI based on Professional Planner data
All P&L items were grouped using uniform scaling and visualization in a monthly comparison with the deviation from the previous year. Ratio indices are shown using variations of needles. The different visualization makes it possible to distinguish among the items on a visual level.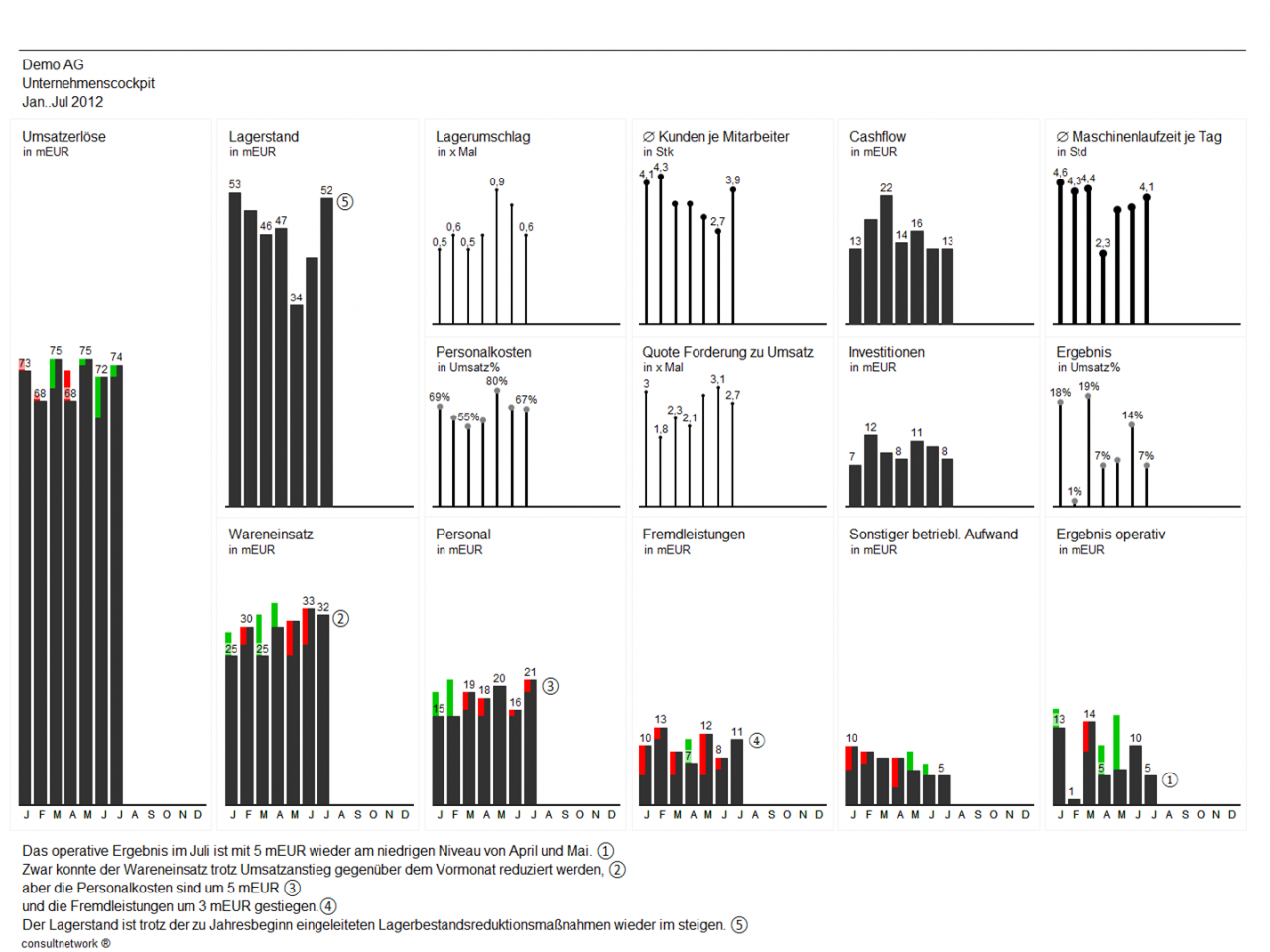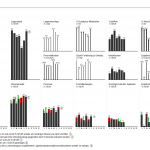 Redesign the SAP Analytics Cloud sample report according to the IBCS-Standards and the ONE PAGE principle
In this video, consultnetwork takes a close look at the prominently placed SAP Analytics Cloud sample report. It reveals the serious errors that have been made in the report and shows how the SAP Analytics Cloud sample report can be redesigned according to the IBCS-Standards and the ONE PAGE principle.
Gallery ONE PAGE Reports based on the IBCS Standards
The conception and technical implementation of reports according to the ONE PAGE principle is one of the focal points of consultnetwork. In this gallery you can see four ONE PAGE reports which have been implemented by certified consultants according to the IBCS-Standards. The technical implementation is done with BI tools like Cubeware, Microsoft Power BI, or the SAP Analytics Cloud.