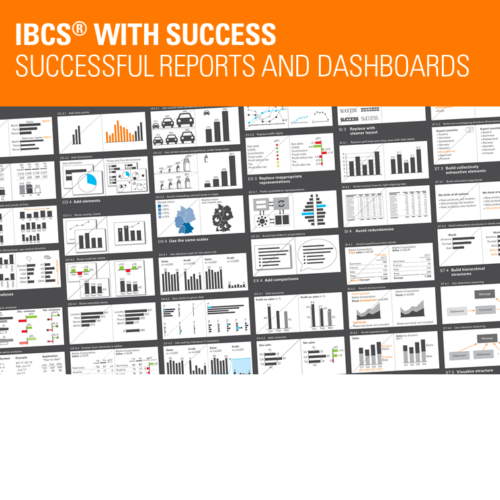 IBCS with SUCCESS –
Successful reports and dashboards
What makes reports and dashboards easier and faster to understand? Learn the difference between reports for messaging and dashboards for self-service. We'll show you that both reports and dashboards need consistent notation, a well-organized structure, the right chart types, high information density, and proper scaling. Find out why large corporations including SAP and PHILIPS have successfully standardized their reporting with the SUCCESS formula of IBCS.
---
IBCS Certified Trainers
Introduction: The basics of business communication (90 min)
Reports should have something interesting to report
Dashboards serve analytical purposes
The SUCCESS formula of the International Business Communication Standards (IBCS)
UNIFY: Apply semantic notation (45 min)
Unify terminology
Define and learn a semantic notation
Unify visualization
SAY: Convey a message (45 min)
Focus on the message
Detect, explain, or suggest
Substantiate message
STRUCTURE: Organize content (45 min)
Use homogeneous, non-overlapping and exhaustive elements
EXPRESS: Choose proper visualization (45 min)
SIMPLIFY: Avoid clutter (25 min)
Avoid noise and redundancies
CONDENSE: Increase information density (25 min)
Add data, elements, and objects
CHECK: Ensure visual integrity (25 min)
Summary (15 min)
Breaks
With classroom courses there is lunch together at 12:30. Snacks and refreshments are served in coffee breaks at around 10:30 in the morning and 15:00 in the afternoon. After the training you are invited for an Apéro – a kind of small reception, at which snacks and refreshments are served.
In the case of online courses, the breaks are timed in the same way.