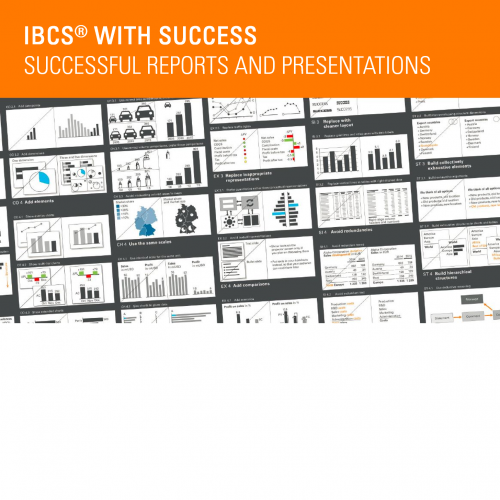 IBCS with SUCCESS – Successful reports, presentations, and dashboards
As an expert in your field, you have processed important and accurate data. Yet it takes much more to present this data successfully to management or customers. Focus here must be on your message because recipients will only be able to understand you if you really say what must be said. And management reports require clear notation, as is the case with maps or sheets of music.
---
IBCS Certified Trainers
Program
08:30
Reception and distribution of materials
09:00
Introduction: The basics of business communication
Management reports: Reports should have something interesting to report
Presentations: The PowerPoint culture must be questioned
The SUCCESS formula of the International Business Communication Standards (IBCS)
11:00
SAY: Convey a message
Focus on the message
Detect, explain, or suggest
Substantiate message
11:30
STRUCTURE: Organize content
Use homogeneous, non-overlapping and exhaustive elements
Build hierarchical structures
Show logical structure
12:00
EXPRESS: Choose proper visualization
Use correct chart type
Add comparisons and variances
Explain causes
13:30
EXPRESS: Choose proper visualization (contd.)
Replace inappropriate chart types
14:00
SIMPLIFY: Avoid clutter
Avoid noise
Avoid redundancies
14:30
CONDENSE: Increase information density
Utilize space
Add data, elements, and objects
15:30
CHECK: Ensure visual integrity
Avoid manipulated elements
Use the same scales
16:00
UNIFY: Apply semantic notation
Unify terminology
Unify visualization
16:30
Summary
Practical application
Next steps
Breaks
With classroom courses there is lunch together at 12:30. Snacks and refreshments are served in coffee breaks at around 10:30 in the morning and 15:00 in the afternoon. After the training you are invited for an Apéro – a kind of small reception, at which snacks and refreshments are served.
In the case of online courses, the breaks are timed in the same way.