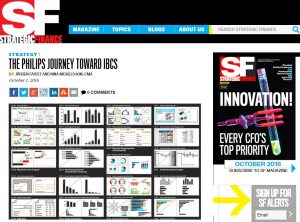 Maurice Verhagen
The Philips journey toward IBCS
Strategic Finance (Migliedermagazin von IMA), Oktober 2016
You know the problem: Choose any set of 10 reports from your company and you'll find 10 different ways of presenting the information.
Philips, the Netherlands-based global player in healthcare, consumer lifestyle, and lighting technology, started to improve this situation within the scope of its multiyear change and performance program dubbed Accelerate!, which is being implemented across the organization to drive value creation and speed up growth.
Maurice Verhagen, head of Reporting Services, is in charge of the concept and rollout of reporting standards at Philips. Verhagen talked recently with Jürgen Faisst about reporting at Philips, implementation of the IBCS, the benefits achieved, and his recommendations for readers of Strategic Finance.
Read more on sfmagazine.com