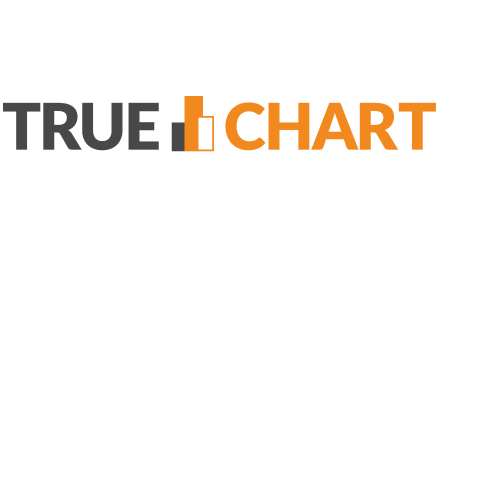 TRUECHART 2020.11
IBCS® for Qlik, PowerBI, Excel and more…
---
About
TRUECHART is a scalable, enterprise-class solution that integrates with your preferred BI and Analytics tools (Qlik, Power BI, Jedox, Excel and any platform with an API). TRUECHART enables faster, better, more-informed decision-making across your entire organization by offering functionally to fully-enabling the International Business Communication Standards (IBCS®) in any corporate environment.
TRUECHART capabilities and benefits include:
Powerful IBCS® Charting Engine
TRUECHART allows users to harness the full benefits of the International Business Communication Standards (IBCS®) and adds an advanced financial report notation system to your preferred BI and Analytics platform (Qlik, PowerBI, Excel, Jedox), or any system with an open API. One license works across every integrated platform.
Advanced Chart Creation Wizard
TRUECHART allows report authors to quickly and easily build sophisticated IBCS®-compliant charts and graphs with a flexible, easy-to-use Wizard. IBCS®-compliant reports can be created and deployed in minutes, providing information to report consumers more quickly, in an optimize responsive layout format that fully leverages the benefits of IBCS®.
Cross-Platform Chart Library
TRUECHART integrates with your preferred BI platform(s) to build reports once, then manage, (re)use and display them anywhere. Using the TRUECHART API, all content can by integrated across any system. Ensure report consistency and company-wide adoption of your IBCS®-compliant content for maximum benefits. TRUECHART eliminates the need to rebuild content as corporate tools and platforms change… your effort and investment in IBCS® materials remains protected. Manage your report and template library across all platforms. And your software investment is safe too, with a license model that is platform-independent, and not permanently tied to a single BI tool vendor.
Report Annotation and Commenting System
TRUECHART adds cross-platform "smart commenting" to your reporting and analytics processes, allowing stakeholders to add comments, explanations and key messages to any chart, graph, report or key figure. These annotations are centrally stored, linked to key values, and dynamically available for display across all relevant reports, systems and platforms so your key messages and explanations are available anytime, anywhere.
And For Qlikies…
Qlik Sense Enhancement Pack
In addition to the cross-platform benefits above, TRUECHART also extend the Qlik Sense environemnt with missing functionality. TRUECHART adds a powerful menubar, dynamic tables and comprehensive screen layout tools. TRUECHART allows designers to create "mashup"-like views and layouts of all their favourite IBCS® content, all from within the native Qlik Sense environment. Reports can be printed in Qlik's Nprinting offering, or with Mail & Deploy's advanced printing solution for Qlik Sense that provides enhanced functionality for multipage tables (e.g. PDF, Word, etc.) and data exports (Excel), including formatted comments.
For more information about the benefits of TRUECHART , customer testimonials, and our partner program for IBCS® Certified consultants, trainers and providers, visit www.truechart.com.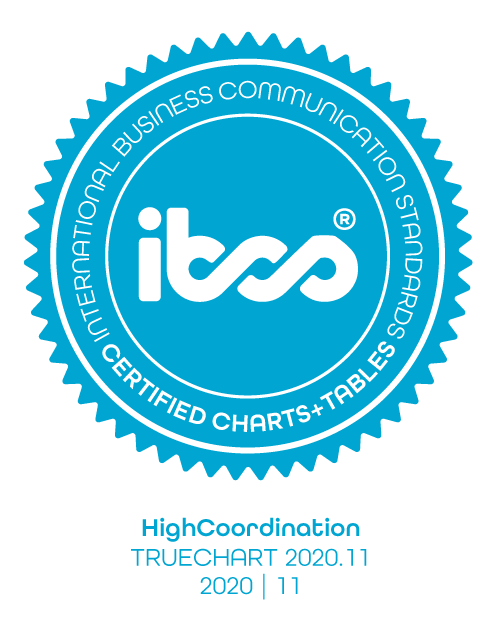 IBCS® Certified Charts+Tables
TRUECHART 2020.11 has successfully passed the examination in accordance with the provisions of the IBCS® software re-certification process in November 2020. TRUECHART initially was certified in July 2016. The visual design of the presented business charts and tables is certified to be compliant with the Standards proposed by the IBCS Association.
Examples
Here are some examples of IBCS® compliant reports, such as the templates which have been developed by HICO-Group during the certification procedure.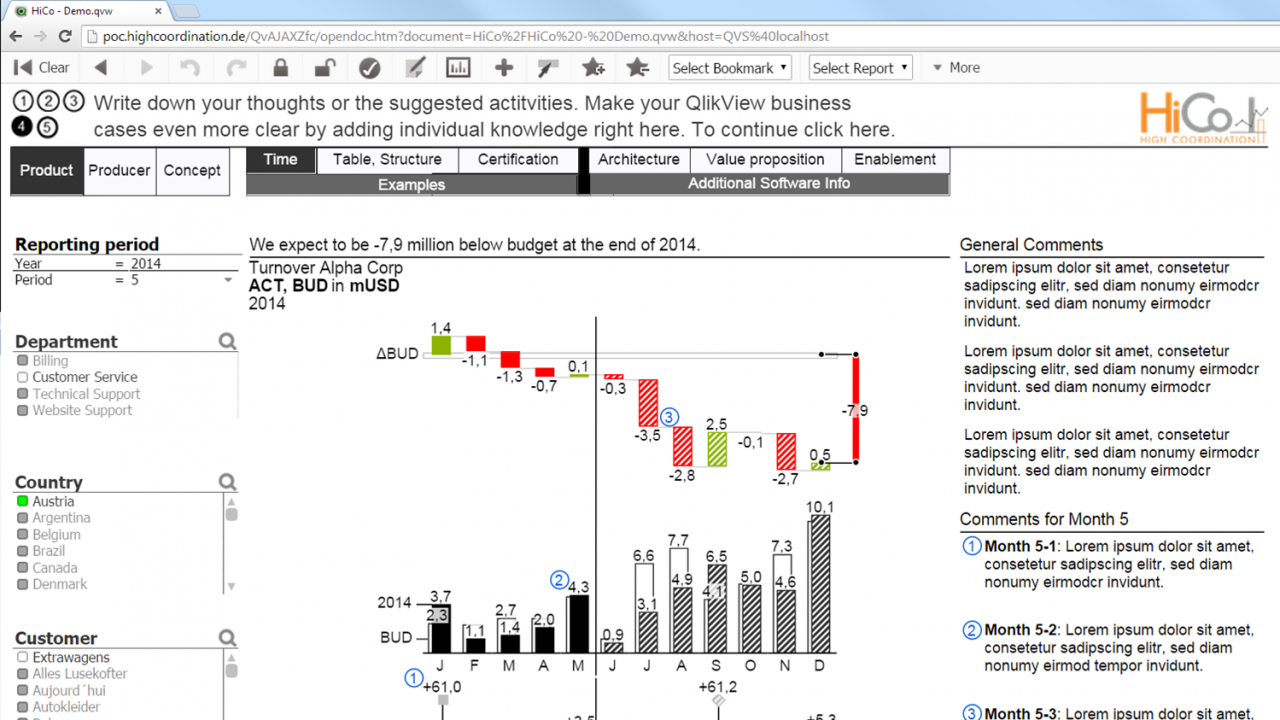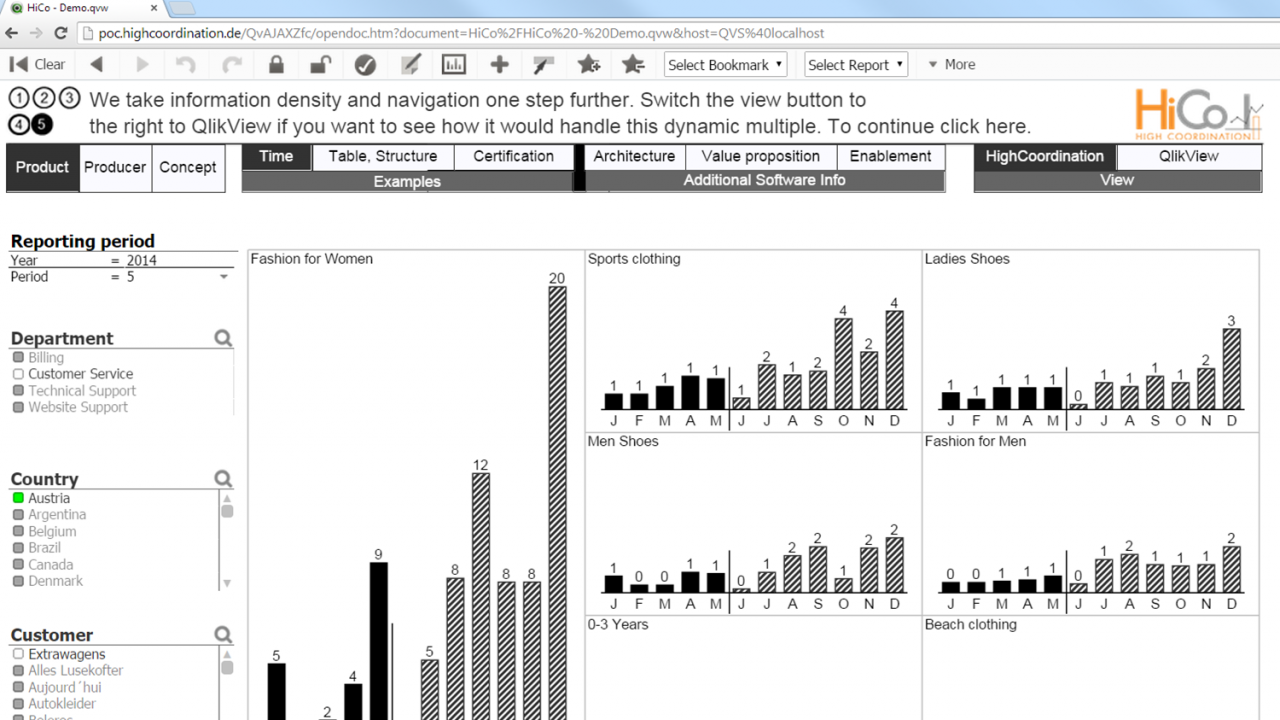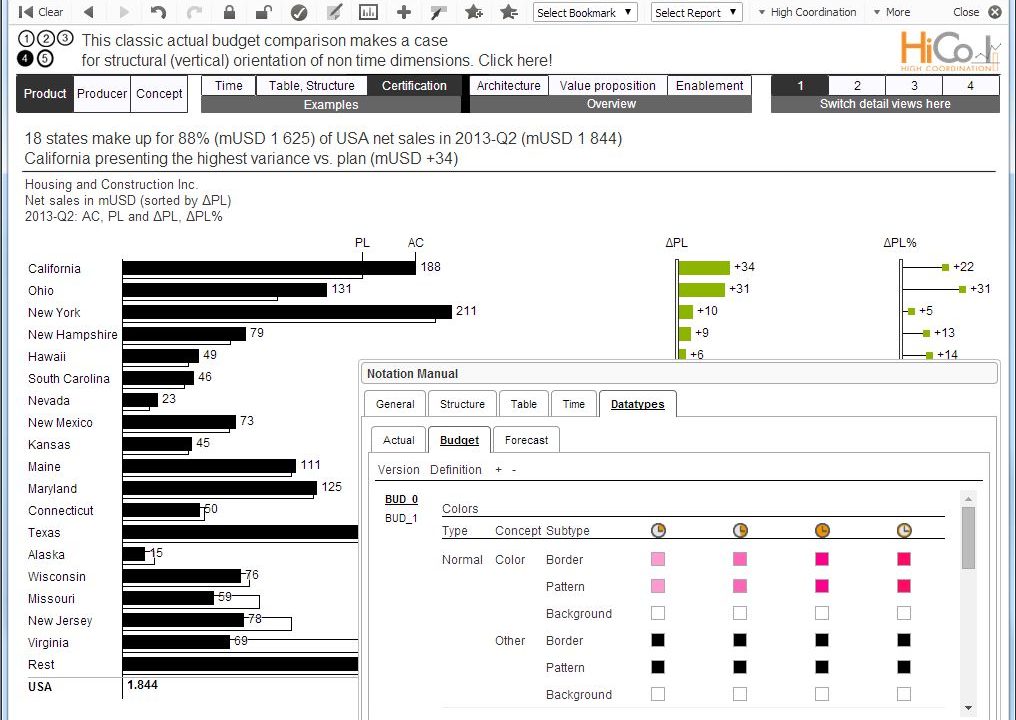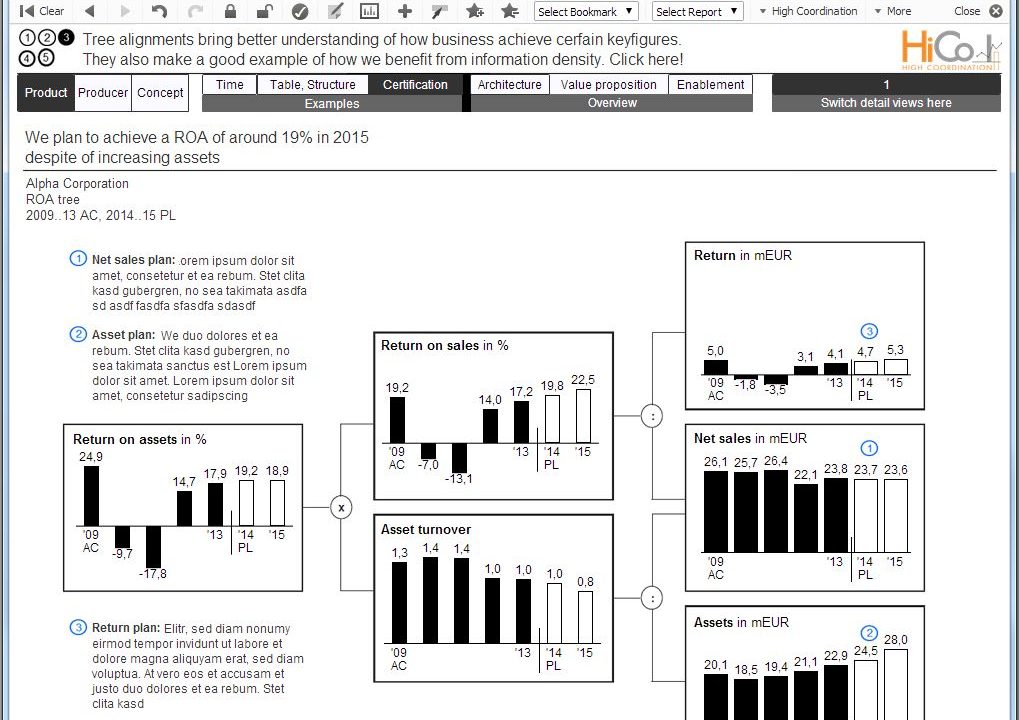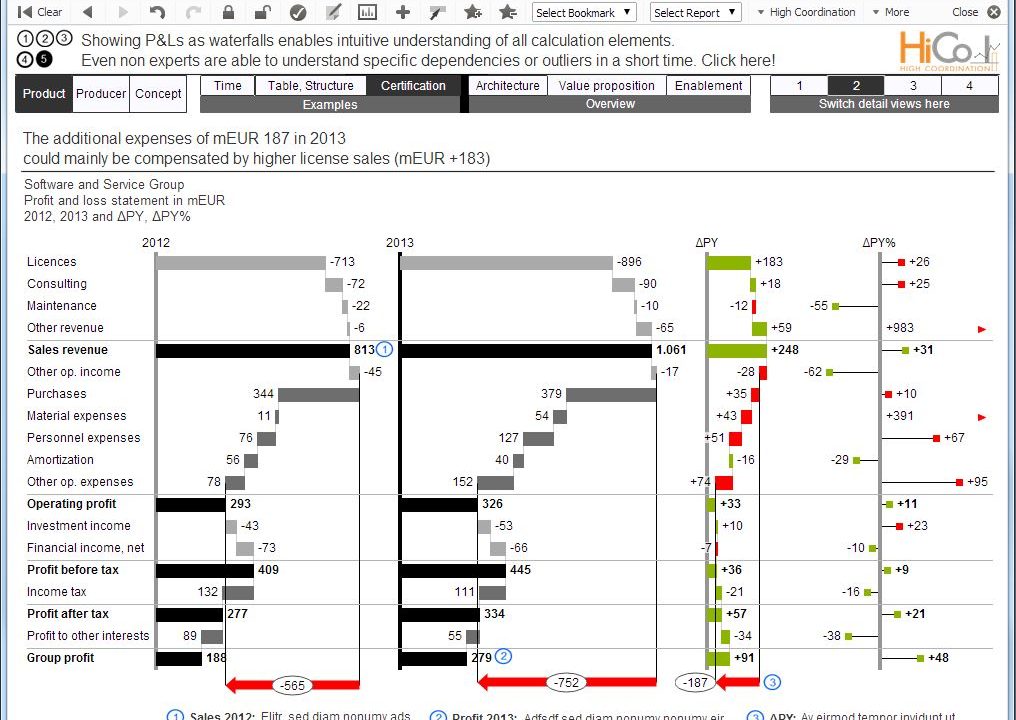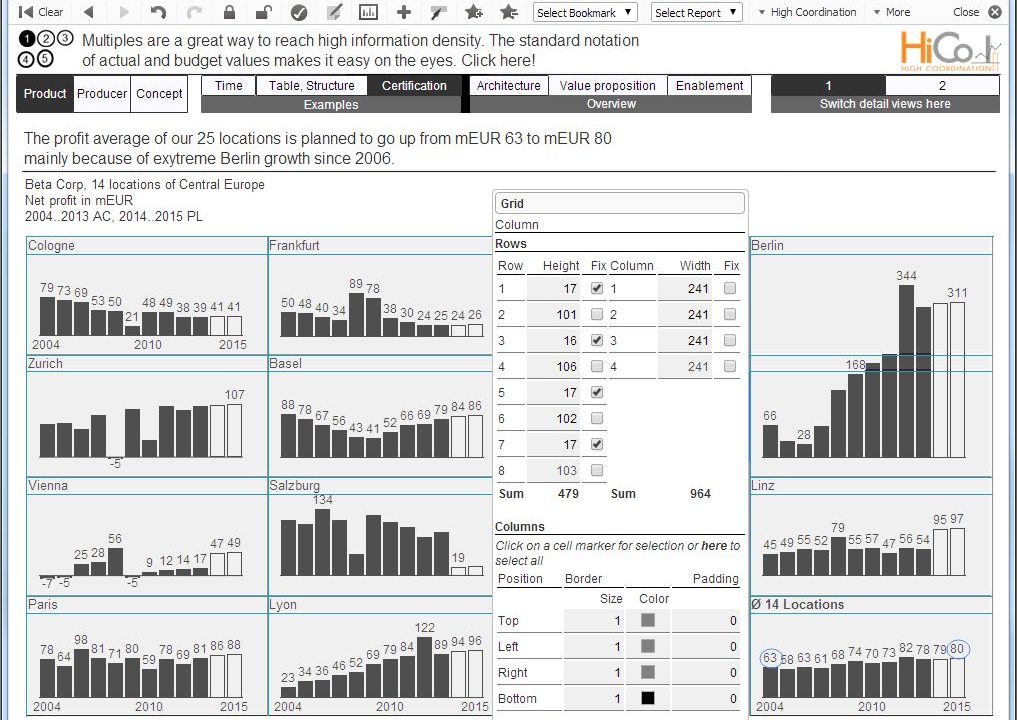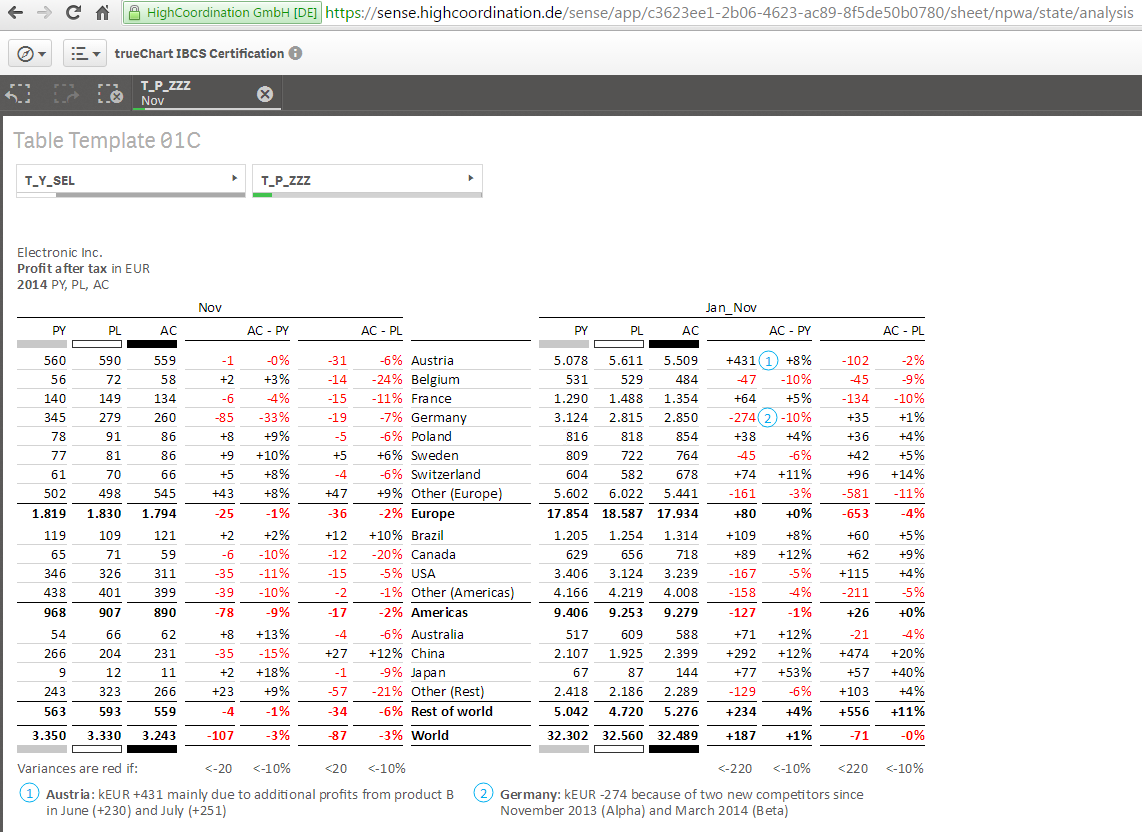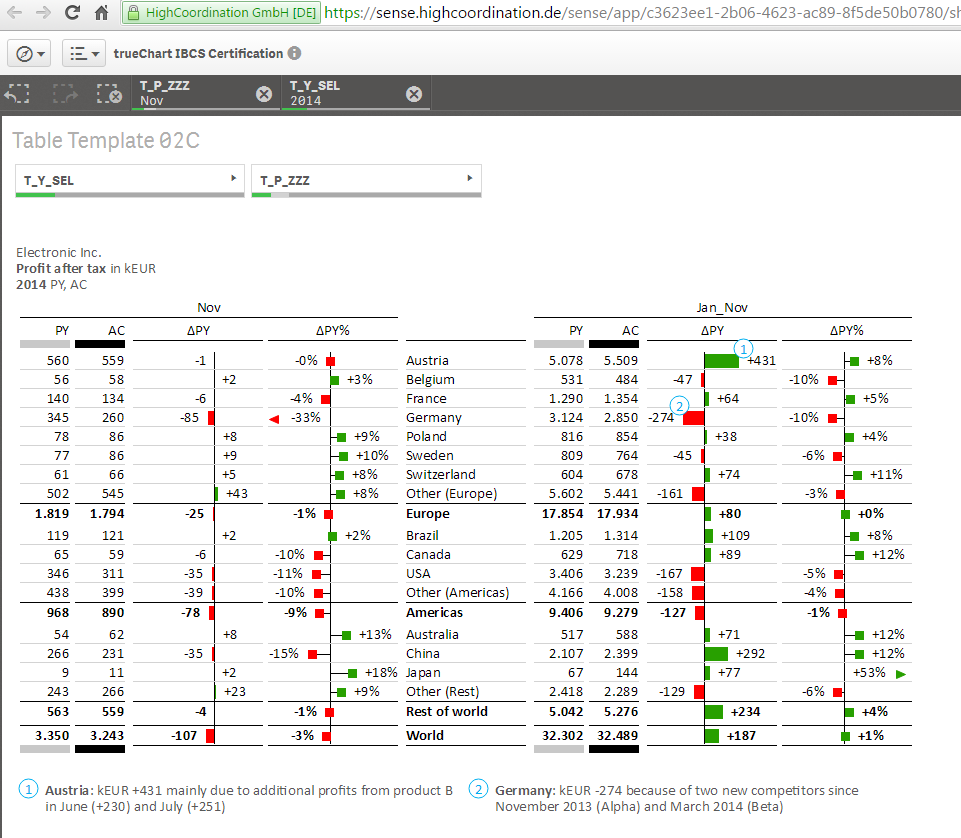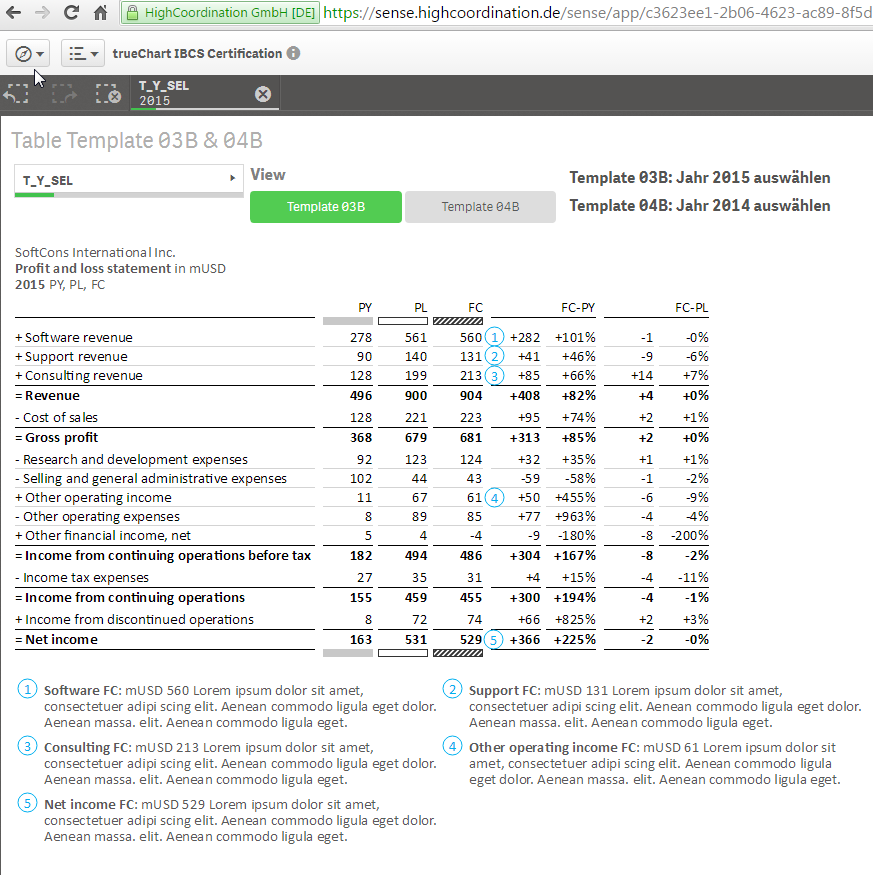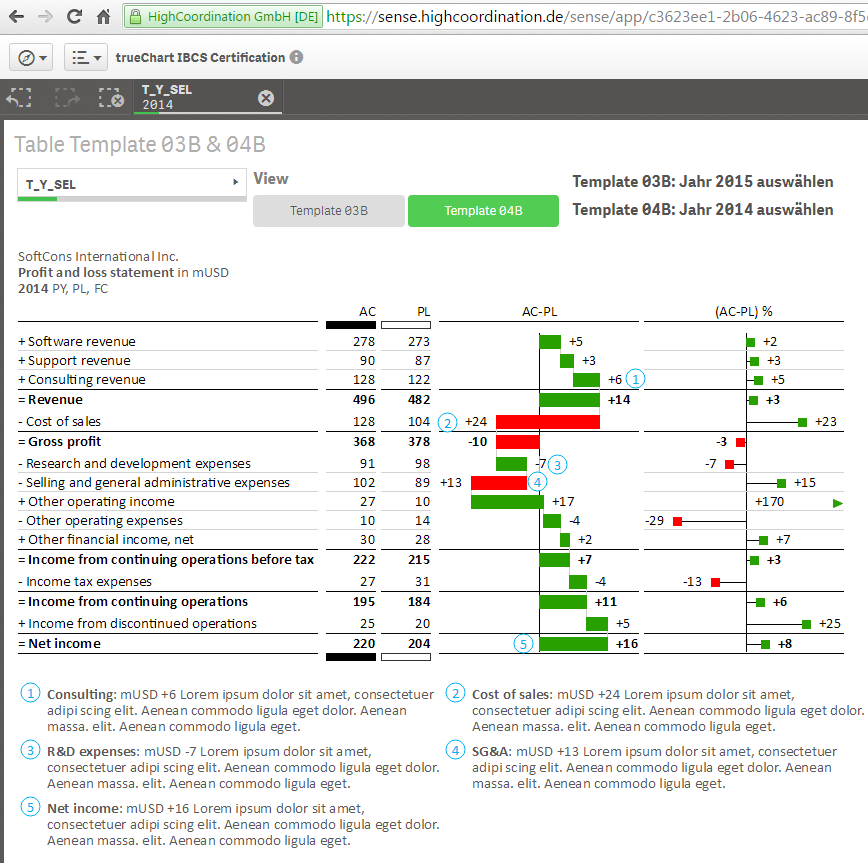 Time line, comments General and periodical comments complement the correctly scaled turnover progression to provide a meaningful and functional business case. Comments can be defined and linked to the dataset in any desired combination of user, language and data criterias.

Time line, multiple The multiple turnover is based on all the common known rules of IBCS. It can be sorted strictly or optimized for space usage. Space usage is optimized by the available cell structure and totals or other cases can be identified and handled separately.

Chart template 01 Dimension values are saved depending on the font size in trueChart. This enables images to scale optimal depending on the current font size.

Chart template 04 trueChart achieves a uniform language by using a central notation manual. All trueChart objects will be drawn on the basis of the current notation throughout the entire installation. Changes can be made centrally.

Chart template 11 QlikView enables us to create even complex images like this ROA tree. Due to the automatic scaling within a scaling group the absolute and relative values will be shown scaled correctly without assistance of the user.

Chart template 12 trueChart divides the given space optimally according to the waterfall values of "2012", "2013" and "ΔPY". This basic functionality enables comprehensible visuals even in an environment of volatile values.

Chart template 13 In trueChart any number of lines and columns using any number of value series can be combined and shown. This enables us to create images of highly condensed information like this Multiple showing the turnover per city.

Table template 01 Display of intermediate sums and totals in a table. Relative values are colored red if they exceed a fixed value.

Table template 02 Any chart types can be combined with trueChart tables, in this example bar and pin representations were used. Outliers are marked with an arrowhead.

Table template 03 Balance sheet with intermediate sum and total line. Important comments can be linked directly to the corresponding number.

Table template 04 Balance figures with intermediate sums and total lines, supplemented by a waterfall and a needle diagram. Important comments can be linked directly to the chart.