Zebra BI for Office
Zebra BI for Office is the #1 data visualization tool for Excel and PowerPoint, empowering business professionals to transform complex data into clear and actionable insights. Create stunning reports that meet IBCS® standards out-of-the-box and drive better decision-making.
---
About
At Zebra BI, we believe every report should answer key business questions: How well are we doing? Where should we focus our attention? Which action should we take? 
Based on feedback from the world's leading companies like Coca-Cola, Bayer, PwC, and other 2,800+ customers that trust us with their decision-making, we developed MS Excel and MS PowerPoint add-ins that make it possible to create best-practice reports in seconds.  
Supercharge your reports  
Time is money, especially in business reporting. Why waste time on crunching numbers, if you can let Zebra BI automatically calculate and visualize variances in Plan or Forecast for you. Besides calculations, you get immediate access to advanced charts and tables in 1 click — simply slide between waterfall, variance, column, area, line, dot, lollipop, and 'hills&valleys' charts, or even create small multiples from your pivot table! 
Achieve consistency across organisation  
Get out-of-the-box IBCS® compliant visualizations and make sure reports across your organization stay consistent and follow the same logic for easier understanding and faster decisions.  
Enrich data with more context   
Zebra BI visualizations don't just show how something is good or bad, but they tell you exactly what's going on. You can also add dynamic comments to further explain why something is happening. 
Key functionalities: 
Automatic calculations of absolute and relative variances

 

1-click tables with integrated charts (comparison, hierarchical, cross-tables, calculation tables)

 

1-click advanced charts (waterfall, variance, column, area, line, dot, lollipop, and 'hills&valleys' charts..) 

Small multiples for categorizing and analyzing trends

Ability to add up to 3 different comparisons: Plan (PL), Previous Year (PY) and/or Forecast (FC)

 

Top N + Others functionality

 

Dynamic comments to explain context

 

Formula editor to calculate new elements on the fly

Responsive design to adapt the amount of information on display

 

Invert result option

 

Flexible number formats

 

1-click Axis break

 

Enhanced tooltips for more insights

… and much more!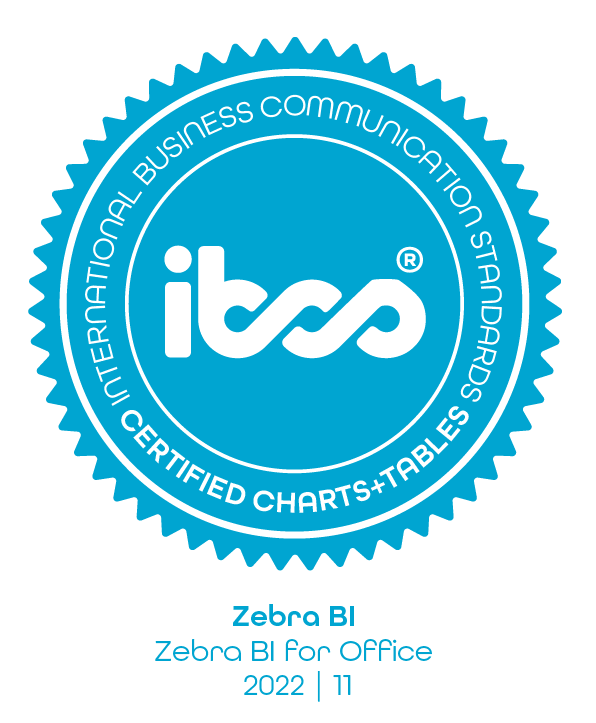 IBCS® Certified Charts+Tables
Zebra BI for Office has successfully passed the examination in accordance with the provisions of the IBCS® software re-certification process in November 2022. Zebra BI for Excel initially was certified in June 2015. The visual design of the presented business charts and tables is certified to be compliant with the Standards proposed by the IBCS Association.
Examples
Zebra BI offers 20+ FREE report templates that are fully customizable and prepared according to the latest best practices. Here are some examples: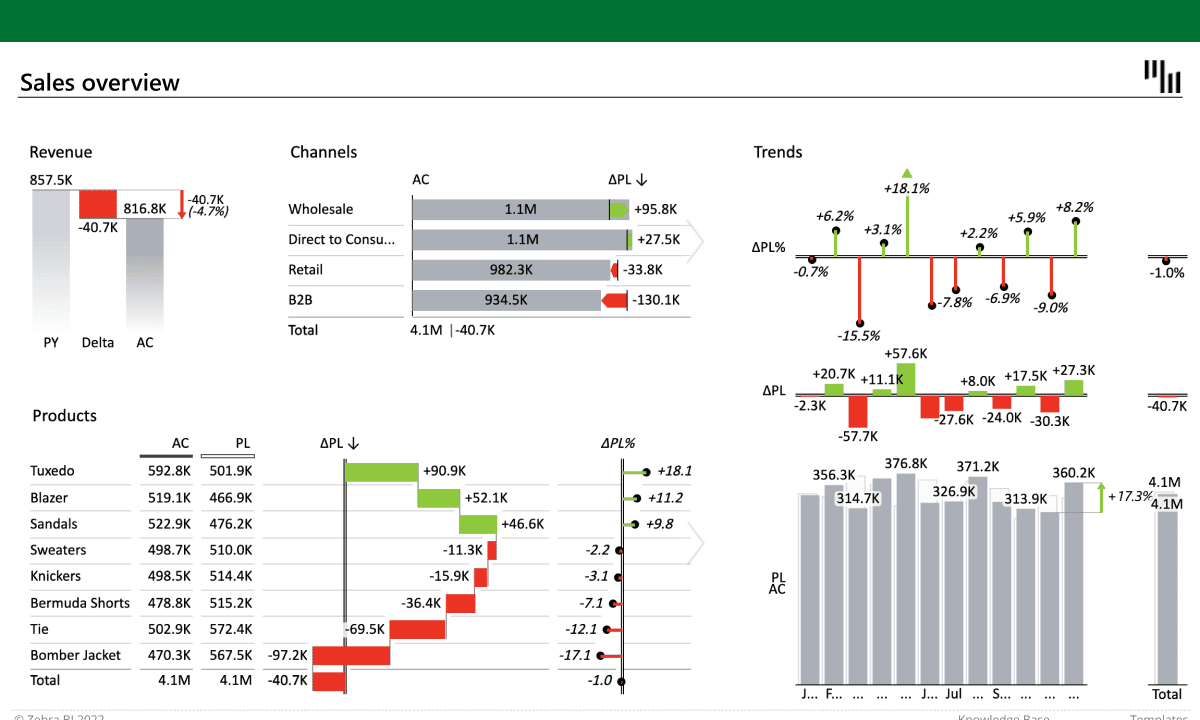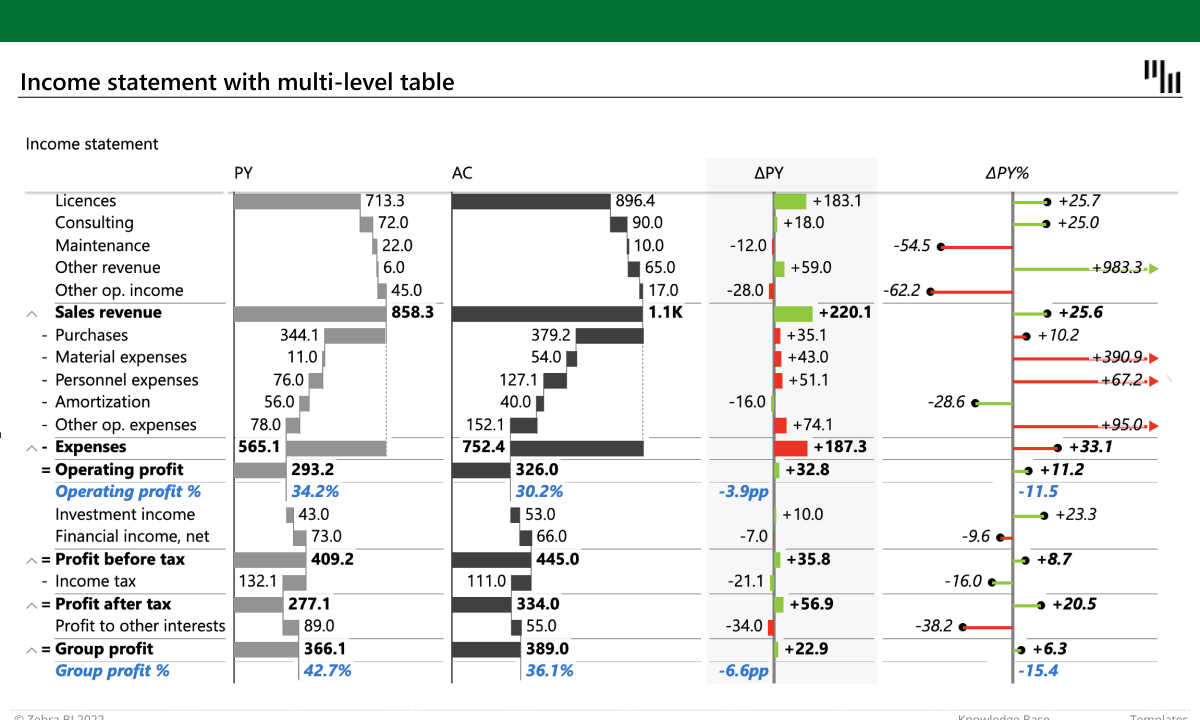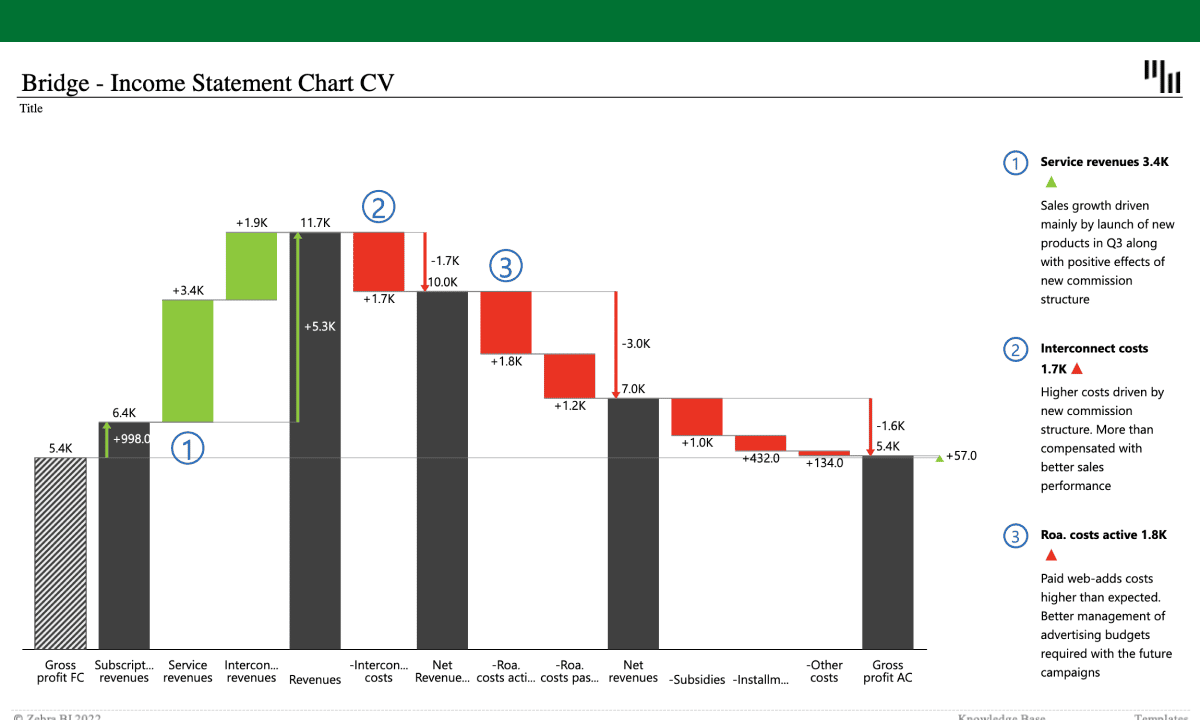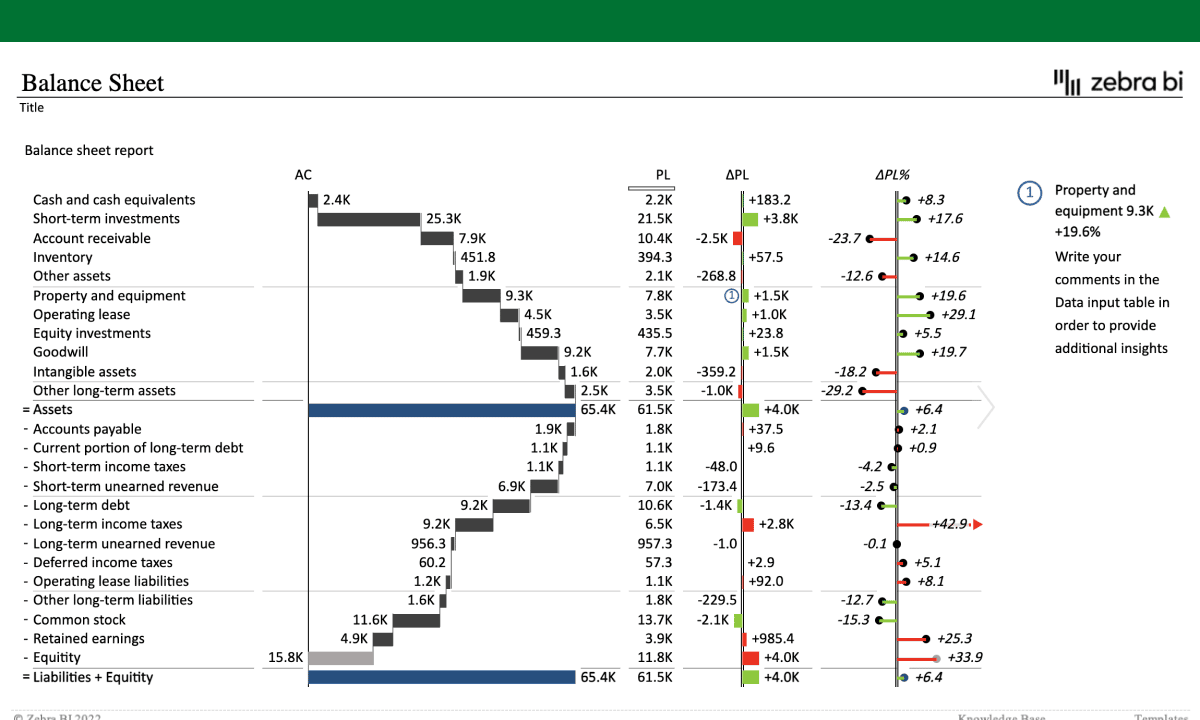 Example 1

Example 2

Example 3

Example 4

Example 5