Newsletter 2020|01
Dear reader,
There is once again plenty of news about IBCS, despite and partly even because of Corona. We think the fact that everything now happens virtually is good news for our friends outside Europe.
So enjoy reading and stay healthy!
Yours
Jürgen Faisst and Rolf Hichert
P.S.
Joy is known to double when it is shared. So please feel free to forward this email. Maybe the recipients will want to subscribe.
July 3, 2020
IBCS VIRTUAL CONFERENCE
The IBCS Annual Conference can unfortunately not take place in Berlin as planned. We are now working on a virtual conference program that for the first time gives IBCS enthusiasts from outside Europe the chance to attend without lots of traveling.
Over 1900 registrations for lecture
A&F SUMMIT ON MAY 13 AND 14 
The Accounting & Finance Summit will also take place virtually this year. With great success: More than 3000 (!) participants have registered and over 1800 have already signed up for the lecture by Jürgen Faisst and Gary Crawford on "Easier to understand reports and dashboards".
Analytics on Fire Podcast
INTERVIEW WITH MICO YUK
Mico Yuk, America's "First Lady of Dashboard Design" and co-founder of BI Brainz, has conducted an entertaining interview with Jürgen Faisst for the anniversary edition of her AoF podcast. It turned out she is an ardent fan of Rolf Hichert and IBCS.
Solid, outlined, hatched
ONLINE COURSE IN PREPARATION
Starting the end of June, there will be an online course corresponding to the book with the same title "Solid, outlined, hatched". You will be able to study IBCS notation and its application step by step with the help of learning videos, online assessments and practical exercises. Those who register by the end of May will benefit from an "Early Bird Special".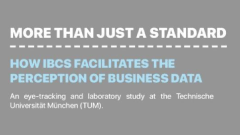 61% less errors and 46% faster decisions
MORE THAN JUST A STANDARD
Blueforte has now also published an English version of the laboratory study with the Technical University of Munich on the benefits of IBCS. A must-read for anyone who wants to prove that consistent report design brings measurable benefits.
Success Story
QIAGEN
Qiagen, a biotech company that is currently known to a broader public through its corona tests, has successfully found a BI solution with IBCS-compliant charts and tables: They have implemented TRUECHART with Qlik Sense within a few months.
LECTURES GIVEN BY IBCS® CERTIFIED TRAINERS
2020-11-19
Management Information Forum in Warschau
Edyta Szarska | More…
2020-06-22
Conference Supervision in the Capital Group – Practical Aspects of Reporting 
Edyta Szarska | More…
2020-06-02
EY Forum Financial Controlling Transformation
Edyta Szarska | More… 
2020-05-15
Virtual Accounting & Finance Summit
Jürgen Faisst | More…
2020-03-17
Online-seminar: IBCS – What it is and why you need to know about it!
Bernie Smith, Ronald van Lent | More…
SAP Analytics Cloud | Profile…
SAP Analytics Cloud, SAP's strategic planning, analysis, and reporting platform, was successfully re-certified earlier this year. Once again this underlines SAP's commitment to IBCS.
Further IBCS certifications
Currently three more software packages are in the process of being certified by IBCS. Be curious…
SEBASTIAN BAUMHAUER

Senior Consultant at D ONE, Switzerland.

Profile…

ANDREAS PALMER




 




Senior Business Intelligence Consultant at Trivadis, Switzerland.

Profile…

MARIO ROSENFELDER

General Manager at consultnetwork, Austria and Germany.

Profile…
Copyright © 2020 all rights reserved.
IBCS Institute | Schürmannstr. 9 | 40723 Hilden | Germany
www.ibcs.com | info@ibcs.com | +49 2103 336002