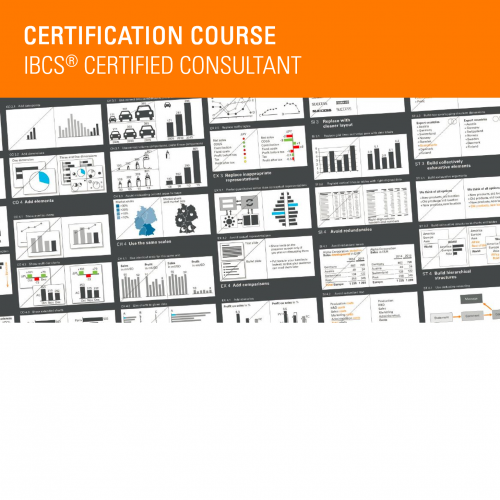 Certification course - IBCS® Certified Consultant
Implementing the SUCCESS formula of the IBCS® Standards in an organization is just as interesting as it is challenging. This course is geared towards consultants and employees with many years' experience in controlling or Business Intelligence projects.
---
Trainers
Program
Day 1
08:30
Reception and distribution of materials
09:00
Welcome
Participants, program, and organization
09:30
IBCS® with SUCCESS
Conceptual rules
Perceptual rules
Semantic rules
10:45
SAY and STRUCTURE
Rules for conveying a message and organizing content
The Pyramid Principle
13:30
Group exercise on conceptual design
Build a storyline for a presentation by applying the Pyramid Principle
Presentation and discussion of results
16:00
EXPRESS and SIMPLIFY
Rules for choosing the proper visualization: Does and don'ts
How to avoid clutter
18:00
Evening program
Sightseeing and get-together
Day 2
09:00
Welcome
Summary of Day 1
09:15
CONDENSE and CHECK
A systematic approach for increasing information density
Scaling rules for ensuring visual integrity
11:00
UNIFY and IBCS® notation manual
Benefits of applying notation standards
Topics for a standardized notation
Corporate guidelines
13:30
Group exercise on visualization
Design charts for the presentation of a given storyline
Presentation and discussion of results
16:00
Enablement
Notation concept
Management sponsorship
Software support
Evening home exercise
Task assignment and individual preparation of a brief presentation for Day 3
Day 3
09:00
Presentations of results
Short presentations of the homework results
Discussion in a plenary session
13:30
Open topics
Discussion of topics for future versions of IBCS®
14:45
Exam
Certification test with 10 open text questions about IBCS®
15:45
Conclusion
Feedback and next steps
Breaks
On all days there is lunch together at 12:30. Snacks and refreshments are served in coffee breaks at around 10:30 in the morning and 15:00 in the afternoon. After the course you are invited for an Apéro – a kind of small reception, at which snacks and refreshments are served.