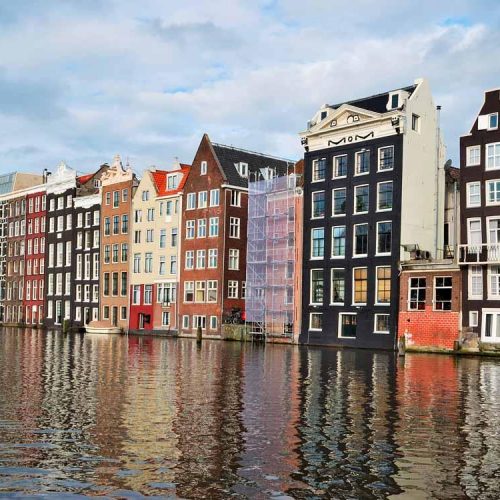 IBCS® Annual Conference 2015 in Amsterdam
June 19, 2015
Royal Philips Global Headquarters
Amstelplein 2, Breitner tower
1096 BC Amsterdam, The Netherlands
---
Program of IBCS® 2015
08:30
Check-in and coffee
09:00
Welcome and opening
Executive from Royal Philips
09:15
IBCS® - Where do we stand today?
Rolf Hichert, IBCS Association
09:45
How IBCS® improve the value of CCİ's management reporting? Recognizing the need to establish a thorough process of standardizing business communication
Ilkay Furmaz, Coca-Cola İçecek, Istanbul
IBCS standards tailored to our KPIs and business dimensions
An agile proof-of-concept project resulting in quick wins and top management support
Equipping Excel users with Zebra BI
Hands-on training and mentorship
Future plans: Spreading IBCS® across the enterprise information architecture
10:45
Implementation of IBCS® at the Otto Group
Ulrich Siegel, Otto Group, Hamburg
Advantages and benefits
Implementation procedure
Live presentation of 5 IBCS compliant reports from condition management
Challenges and key learnings
11:15
Improving transparency in a public organization of 100.000 employees
Michael Schopf, Bundesagentur für Arbeit, Nürnberg
Bundesagentur is The Federal Employment Agency with 700 offices nationwide
The president himself started a three year change project
The change process to the new IBCS Standards
Excel solutions in use today, future challenges in the SAP and BI world
11:45
Update on IBCS implementation at Philips: Deployment and continuous improvement
Maurice Verhagen, Royal Philips, Eindhoven
Project conclusion
Annual report
IT solution support
12:00
Elevator pitch of IBCS® Sponsors 2015
What is the USP of every vendor in the market for IBCS compliant software?
Breakout sessions
A   IBCS charts® in practice - real world examles and dilemmas
Preparation and moderation: Andrej Lapajne, Zebra BI, Ljubljana
Dilemmas in selecting the most appropriate chart based on the structure of data and intended message
Time-series analysis: When to use columns, dots/"pins", lines, areas? Multiple series or small multiples?
Dilemmas with waterfall charts: multilevel hierarchies and calculations, achieving consistent color codes for "neutral", "good" and "bad", notation of scenarios in chart series vs. semantic axis, etc.
Shape coding details: applying markers, semantic axis and patterns consistently across different chart types and for different KPIs
B   Successful SUCCESS projects - how do we convince top management?
Preparation and moderation: Heinz Steiner, Trivadis, Glattbrugg
What are necessary pre-requisites for a successful change process?
These elements must be considered: notation concept, communication, training, quick wins, templates, software tools, …
C   Learn from Designers and Developers when creating business communication products
Preparation and moderation: Jörg Decker, Densio Software, Düsseldorf
IBCS® Standards have been created to make business communication more understandable. The need to understand information in an easy way is also known in other businesses – it's the daily business for UX Designers. Let's take a look what we can learn from them.
A   The concept of scaling indicators - a general solution for the comparison of scales?
Preparation and moderation: Rolf Hichert, IBCS Association
B   Table standards - necessary or only nice to have? Discussion of the IBCS table concept version 1.0
Preparation and moderation: Jürgen Faisst, HICHERT+FAISST
Status quo: Necessity and concept
Controversial topics
Conceptual gaps
16:00
Summary of each breakout session
16:40
IBCS® - Where do we want to be next year?
17:00
End of the conference
Apéro
Participants
Mohamed Abouyakob, JUGO, TH 's-Hertogenbosch
Thomas Bauer, MCG GmbH, Mannheim
Lars Bayer, HighCoordination GmbH, Radolfzell
Mathias Besser, HI-CHART GmbH, Berlin
Dietrich Betz, Knauf Gips KG, Iphofen
Mitja Bezenšek, Zebra BI d.o.o., Ljubljana
Raphael Branger, IT-Logix AG, Bern
Arno Cebulla, Oraylis GmbH, Düsseldorf
Jörg Decker, Densio Software GmbH, Düsseldorf
Norbert Engelhardt, pmOne AG, Unterschleißheim
Jürgen Faisst, HICHERT+FAISST GmbH, Hilden
Armin Fehr, B. Braun Melsungen AG, Melsungen
Ilkay Furmaz, Coca-Cola İçecek, Istanbul
Holger Gerhards, gmc² gerhards multhaupt consulting GmbH, Bonn
Holger Gerths, HI-CHART GmbH, Berlin
Simone Gerths, HI-CHART GmbH, Berlin
Ralph Ginzinger, HighCoordination Schweiz GmbH, Kloten
Michael Gniffke, PricewaterhouseCoopers AG, Urdorf
Tilman Hagen, Braincourt GmbH, Leinfelden-Echterdingen
Holger Handel, SAP Deutschland SE & Co. KG, Walldorf
Rolf Hichert, IBCS Association, Kreuzlingen
Ronny Hoffmann, PricewaterhouseCoopers AG, Frankfurt
Harry Hol, DDC Group, Rijen
Beat Honegger, plus-IT AG, Winterthur
Serdar Inceköse, arcplan Information Services GmbH, Langenfeld
Meinert Jacobsen, marancon GmbH, Bonn
Stefan Kersten, b.telligent GmbH & Co. KG, München
Gunnar Knoch, Woodmark Consulting AG, Grasbrunn/München
Marita Köpper, Sybit & Peers AG, Tägerwilen
Femke Kooij, Philips Electronics, Eindhofen
Matthias Krämer, Jedox AG, Freiburg
Andrej Lapajne, Zebra BI d.o.o, Ljubljana
Carsten Leminsky, steercom GmbH, Hamburg
Participants
Severin Leuenberger, IT-Logix AG, Bern
Nico Licht, SAP AG, Walldorf
Timo Linde, blueforte GmbH, Hamburg
Daniel Meier, ifb international AG, Zürich
Mladen Meter, Business Effectiveness Ltd., Zagreb
Velora Meyer, Morpho Cards GmbH, Paderborn
Nina Michels-Kim, IMA, Zürich
Stephan Multhaupt, gmc² gerhards multhaupt consulting GmbH, Bonn
Dietmar Pascher, Controller Akademie AG, Wörthsee
Tobias Piecha, blueforte GmbH, Hamburg
Alexander Pröm, IT-Logix AG, Bern
Dirk Proff, blueforte GmbH, Hamburg
Grischa Rehmer, gmc² gerhards multhaupt consulting GmbH, Bonn
Tobias Riedner, flyeralarm GmbH, Würzburg
Julia Röhling, HighCoordination GmbH, Radolfzell
Kristian Rümmelin, avantum consult AG, Filderstadt
Bojan Šćepanović, MCB Management Centre Belgrad
Christian Schneider, b.telligent GmbH & Co. KG, München
Michael Schopf, Bundesagentur für Arbeit, Nürnberg
Lars Schubert, graphomate GmbH, Kiel
Arne-Kristian Schulz, blueforte GmbH, Hamburg
Torben Römer, B. Braun Melsungen AG, Melsungen
Michael Schwan, HighCoordination GmbH, Radolfzell
Ulrich Siegel, Otto Group, Hamburg
Heinz Steiner, Trivadis AG, Zürich
Matthias Storck, ceteris AG, Berlin
Thomas Terbuch, consultnetwork GmbH, Klagenfurt
Ronald van Lent, Jugo, TH 's-Hertogenbosch
Maurice Verhagen, Royal Philips, Eindhoven
Johannes von Mulert, IBCS Association, Kreuzlingen
Dennis Walbrecht, International Card Services BV, Diemen
Thomas Wegner, arcplan Information Services GmbH, Langenfeld
Markus Wolff, chartisan GmbH, Potsdam
Jan Zeides, blueforte GmbH, Hamburg