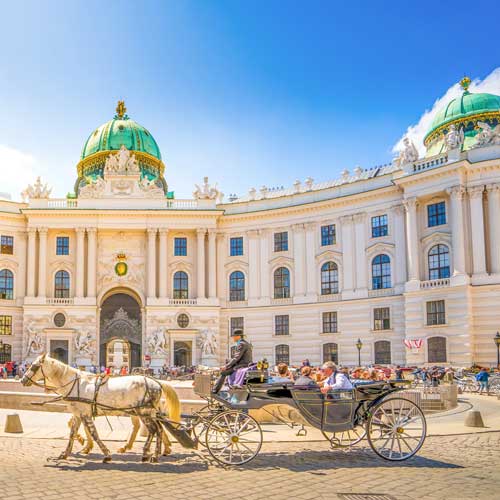 IBCS Annual Conference 2019 in Vienna
UNIFY is key to SUCCESS
June 28, 2019
Hotel Savoyen Vienna
Rennweg 16, 1030 Vienna
Austria
---
Program General Assembly of the IBCS Association on the evening before the conference.
---
Program of Friday, June 28, 2019
09:00
Welcome
Johannes von Mulert, Vereon
09:05
Solid, outlined, hatched
Jürgen Faisst, IBCS Institute
How focusing on semantic notation helps spreading the idea of IBCS
Q&A
09:45
Elevator pitches of exhibitors
Aldecis, gmc², graphomate, Hi-Chart, ksquadrat, trueChart, scc
10:45
The language of graphics and visual notations
Yuri Engelhardt, University of Twente
Vocabulary, grammar and semiotics of graphics
The world of visual notations
IBCS semantic notation
Q&A
11:45
Parallel breakout sessions 1 and 2
13:30
User stories (main hall)
Mag. Jürgen Schenk, Magistratsdirektion Stadt Graz
Marcin Maderak, Capgemini Polska
Matthias Malicke, Schnellecke Logistics
14:15
Parallel breakout sessions 3 and 4
15:30
Results of breakout sessions 1, 2 and 3 (main hall)
16:00
IBCS 's Got Talent - Results of breakout session 4
Moderation: Edyta Szarska, Controlling Partner
16:45
Summary and outlook
Rolf Hichert, IBCS Institute
Topics of the parallel breakout sessions
Session 1Otto Neurath - Lessons learned from the Vienna method applicable to IBCS
Jean-Claude Brunner, TCI Consult
The workshop will show highlights from Neurath's work, compare and contrast examples to their IBCS equivalent, as well as present lessons learned from the Vienna method and Isotype for IBCS. A small experiment will contrast the effectiveness of the Vienna method and IBCS.
Session 2IBCS implementation challenges - Results of a survey and discussion
Jens Ropers, Controller Akademie
Survey: participants and questions asked
Results: real life challenges
Discussion: how to face the challenges
Session 3Mission Roll Out - Company-wide roll out of a notation concept
Norbert Engelhardt, pmOne
Phases for the launch of a notation concept
Success factors for the company-wide roll out
Our recommendations
Session 4IBCS 's Got Talent - Real life before-and-after contest
Moderation: Edyta Szarska, Controlling Partner
Case study: Dashboard for the operational management of a branch at Schnellecke Logistics
Working out solutions in teams of up to 5 participants
Presentations and judgement by a jury in a separate main session
Participants (as of June 26, 2019)
Felix Becker, Ernst & Young, Düsseldorf (DE)
Erik Beekhuis, PostNL, The Hague (NL)
Daniel Beißer, prevero, München (DE)
Viktoria Bondar, Biturio, Glattbrugg (CH)
Raphael Branger, IT-Logix, Bern (CH)
Jean-Claude Brunner, TCI Consult, Wien (AT)
Peter Büschges, Partake, Meerbusch (DE)
Thomas Burkhalter, Blaser Swisslube, Hasle-Rüegsau (CH)
Elena Danchyshyna, Alexander Thamm, München (DE)
Johannes Droste, gmc², Bonn (DE)
Harald Eder, P3 digital services, Stuttgart (DE)
Haral Elsässer, Partake, Meerbusch (DE)
Serkan Emiroglu, Longview, Langenfeld (DE)
Norbert Engelhardt, pmOne, Unterschleißheim (DE)
Yuri Engelhardt, University of Twente, Enschede (NL)
Jürgen Faisst, HICHERT+FAISST, Hilden (DE)
Edim Fazlic, ks quadrat, Köln (DE)
Michael Föry, Föry Consulting, Basel (CH)
Oliver Franz, HighCoordination, Düsseldorf (DE)
Johannes Freyer, blueforte, Hamburg (DE)
Mike Fritz, 4D Solutions Inc., Vancouver (CA)
Dario Genovese, HighCoordination, Zürich (CH)
Holger Gerhards, gmc², Bonn (DE)
Holger Gerths, HI-CHART, Berlin (DE)
Simone Gerths, HI-CHART, Berlin (DE)
Michael Gill, Gill Business Intelligence, Mainz (DE)
Ralph Ginzinger, HighCoordination, Zürich (CH)
Benjamin Gnädig, HighCoordination, Radolfzell (DE)
Kristof Gramm, IT-Logix, Bern (CH)
Thomas Greuel, Computacener, Kerpen (DE)
Tim Groenen, JUGO, 's-Hertogenbosch (NL)
Andraes Gutzeit, Windhoff, Gescher (DE)
Wolfgang Hackenberg, steercom, Hamburg (DE)
Lara Herrmann, gmc², Bonn (DE)
Rolf Hichert, HICHERT+FAISST, Hilden (DE)
Beat Honegger, plus-IT, Winterthur (CH)
Max Hummel, KI performance, Köln (DE)
Meinert Jacobsen, marancon, Bonn (DE)
Jörn Johenneken, Braincourt, Düsseldorf (DE)
Raphael Kempf, plus-IT, Winterthur (CH)
Gunnar Knoch, Woodmark, München (DE)
Jörg Knuth, Ceteris, Berlin (DE)
Nadine Köchermann, fme, Braunschweig (DE)
Andrej Lapajne, Zebra BI, Ljubljana (SI)
Hilde Lavrijsen, JUGO, 's-Hertogenbosch (NL)
Philipp Leimgruber, HighCoordination, Zürich (CH)
Ronald van Lent, JUGO, 's-Hertogenbosch (NL)
Severin Leuenberger, IT-Logix, Bern (CH)
Participants
Robert Lochner, Linearis, Wien AT)
Bastian Lossen, HighCoordination, Zürich (CH)
Marcin Maderak, Capgemini, Krakau (PL)
Daniel Mager, magdata, Heidelberg (DE)
Matthias Malicke, Schnellecke Logistics, Wolfsburg (DE)
Dawid Marciniak, HighCoordination, Düsseldorf (DE)
Daniela Mayer, consultnetwork, Klagenfurt (AT)
Marlene Mayer, Braincourt, Leinfelden-Echterdingen (DE)
Daniel Meier, ifb International, Zürich (CH)
Claude-Henri Meledo, Aldecis, Paris (FR)
Mladen Meter, Business Effectiveness , Zagreb (HR)
Florim Mjekiqi, HighCoordination, Radolfzell (DE)
Frank Mühlenfeld, scc, Wien (AT)
Johannes von Mulert, IBCS Association, Kreuzlingen (CH)
Cornelia Neeser, Rödl Dynamics, Münster (DE)
Renato Očko, Kontroling Kognosko, Zagreb (HR)
Daniel Oppliger, Die Mobiliar, Bern (CH)
Peter Panzau, ks quadrat, Köln (DE)
Mehmet Pasali, Mercedes-Benz Turkey, Istanbul (TR)
Sergi Pizarro, AMSEL ASSESSORS, Mataró (ES)
Markus Poprawa, ifb, Zürich (CH)
Alexander Pröm, Windhoff, Gescher (DE)
Bernhard Puscha, scc, Wien (AT)
Jens Ropers, Controller Akademie, Wörthsee (DE)
Alain Salamoni, Swiss Post, Bern (CH)
Michael Schelkle, MISC, Waidhofen (DE)
Jürgen Schenk, Stadt Graz (AT)
Mario Schoeb, Swiss Re, Adliswil (CH)
Lars Schubert, graphomate, Kiel (DE)
Arne-Kristian Schulz, blueforte, Hamburg (DE)
Michael Schwan, HighCoordination, Zürich (CH)
Ulrich Seidl, HighCoordination, Radolfzell (DE)
Bernhard Smith, Made to Measure KPIs, Sheffield (UK)
Heinz Steiner, Trivadis, Glattbrugg (CH)
Matthias Storck, Ceteris, Berlin (DE)
Christian Storms, oh22data, Bad Camberg (DE)
Xavier Subirats, AMSEL ASSESSORS, Mataró (ES)
Edyta Szarska, Controlling Partner, Warschau (PL)
Thomas Terbuch, consultnetwork, Klagenfurt (AT)
Stefan Utermark, trueChart, Erfurt (DE)
Julian Vogelbacher, Timetoact, Seligenstadt (DE)
Marc Weber, Concentrix, Osnabrück (DE)
Martin Wengatz, Schnellecke Logistics, Wolfsburg (DE)
Christiane Wierich, Windhoff, Gescher (DE)
Felix Winterling, Informatec, Muttenz (CH)
Markus Wolff, chartisan, Potsdam (DE)